Review of Applied Accounting Research (RAAR)
The Review of Applied Accounting Research (RAAR) is a peer-reviewed and open-access journal published by the Lembaga Publikasi Ilmiah dan Penerbitan (LPIP) Universitas Muhammadiyah Purwokerto in collaboration with the Association of Accounting Departments of Muhammadiyah Colleges. (APSA PTMA), Management Forum for Economics and Business Journal of Muhammadiyah and Aisyiyah Universities (FORJAFEB PTMA), and the Indonesian Institute of Accountants. RAAR publishes a new issue every February and October.
RAAR is dedicated to the publication of academic works in all aspects relevant to the development of accounting practice and theory in the public and private sectors. RAAR intends to highlight practical implications in the application of accounting science.
e-ISSN: 2807-8969
ISSN: 2807-8969
DOI: 10.30595/RAAR
This work is licensed under a
Creative Commons Attribution-NonCommercial-ShareAlike 4.0 International License
.
Announcements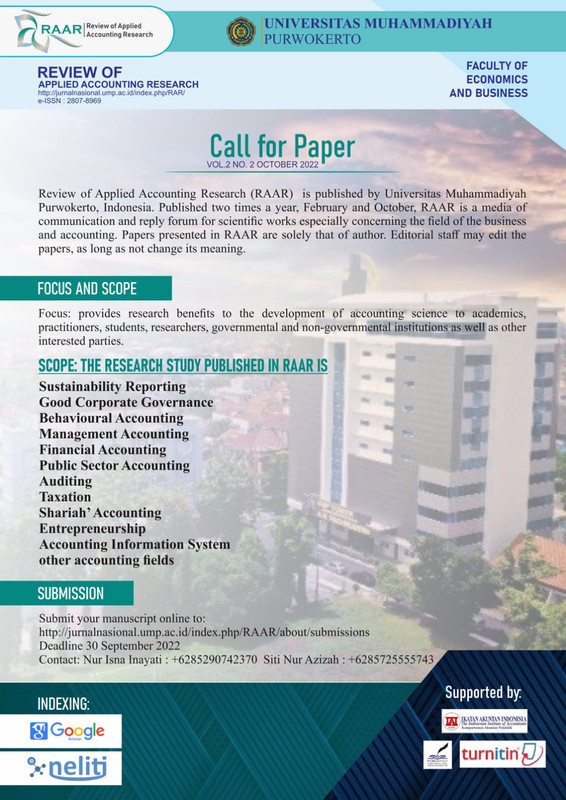 Call for Paper
📝 Review of Applied Accounting Research (RAAR)
Universitas Muhammadiyah Purwokerto
Vol. 2 No. 2, October 2022
Dear all researchers. Review of Applied Accounting Research (RAAR) is published by Universitas Muhammadiyah Purwokerto, Indonesia. Published two times a year, February and October, RAAR is a media of communication and reply forum for scientific works especially concerning the field of the business and accounting. Papers presented in RAAR are solely that of author. Editorial staff may edit the papers, as long as not change its meaning.
Scope: The research study published in RAAR is
1. Sustainability Reporting
2. Good Corporate Governance
3. Behavioural Accounting
4. Management Accounting
5. Financial Accounting
6. Public Sector Accounting
7. Auditing
8. Taxation
9. Shariah' Accounting
10. Entrepreneurship
11. Accounting Information System
12. other accounting fields
🔎 Journal Link
http://jurnalnasional.ump.ac.id/index.php/RAAR/index
🗓 Deadline
Submit your manuscript before 30 September, 2022
http://jurnalnasional.ump.ac.id/index.php/RAAR/about/submissions
📞 Journal Contacts:
Nur Isna Inayati, +62 852-9074-2370
Siti Nur Azizah, +62 857-2555-5743
Vol 3, No 1 (2023): Review of Applied Accounting Research (RAAR) - February
Full Issue
| | |
| --- | --- |
| View or download the full issue | PDF |
Articles
| | | |
| --- | --- | --- |
| | Sri Nunggal Rahayu, Ade Imam Muslim | 1 - 13 |
| | | |
| --- | --- | --- |
| | Bunga Widya Safitri, Adinda Nur Afifah, Fathio Mulya Firdausy, Nur Afif Yuniato, Bima Cinintya Pratama | 14 -22 |
| | | |
| --- | --- | --- |
| | Aditya Prasetyanto, Faiz Nur Hidayat, Fiqih Imanul Haq, Ramadhian Yoga Pratama | 23 - 35 |
| | | |
| --- | --- | --- |
| | Muhammad Musyafa Bahaudin, Dwiki Nugroho, Suryo Budi Santoso | 36 - 44 |
| | | |
| --- | --- | --- |
| | Ghonimah Zumroatun Ainiyah, Kartika Dewi Permatasari, Nurul Hidayat | 45 - 60 |
| | | |
| --- | --- | --- |
| | Totok Susilo Pamuji Nugroho, Ayu Dewi Retnaningrum | 61 - 75 |
| | | |
| --- | --- | --- |
| | Wagiyem Wagiyem, Niken Sukma Larasati | 76 - 84 |
| | | |
| --- | --- | --- |
| | Nina Adelina, Handoko Bagas Saputro | 85 - 99 |
| | | |
| --- | --- | --- |
| | Ela Amelia, Dendi Purnama | 100 - 111 |
| | | |
| --- | --- | --- |
| | Liana Zakiyatul Insani, Akhris Fuadatis Sholikha | 112 - 130 |